IAHD Programs
Scuba diving is not just for a privileged few. For millions of people around the world this will always only be a dream. However, those who take the step towards becoming divers find that it is not as difficult or prohibiting as they may have previously believed.
In almost every country there are hundreds of thousands of people with some form of physical disability. Their disabilities, combined with all the myths about scuba diving, has for the majority, made diving an activity not even worth considering. Yet, learning to scuba dive is easy! With today's modern diving equipment, training materials and instructional methods, diving is accessible for almost anyone. Just the experience of breathing underwater is exhilarating, and is something everyone should try.
Scuba diving is very social, positive, exciting and adventurous. Learning to scuba dive for someone with a serious physical disability provides numerous benefits. It aids in developing and maintaining the individual's motor functions, muscle tissue, co-ordination and respiration. For those who are "tied to a wheelchair" it provides real freedom of movement! For many it has also proven to be invaluable rehabilitation therapy.
Togan Muftuoglu is the Training Director of IAHD for Turkey.
The Instructor Training Course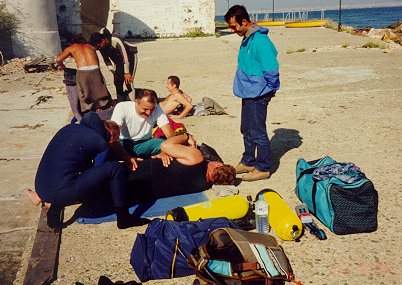 The IAHD Instructor Training Course consists of three days classroom, pool and open water training and teaches you how to manage problems you can expect to encounter when training physically disabled divers. You are trained in various methods of assisting those with sight impairment, hearing impairment, spinal injuries, amputations, etc. The training also focuses on an awareness of various logistical considerations and how to plan accordingly.
Through simulations in the confined water and open water sections of the ITC, you receive first hand experience in understanding and coping with the problems associated with your students disabilities. Upon successful completion of the course, you are awarded the IAHD Instructor or Divemaster rating, in accordance to your status with your primary training organization.
Course prerequisites:
You must be a Diving Instructor or Divemaster, in active status, with an internationally recognized diver training organization.
The Dive Partner Program
The Dive Partner is a certified diver that has been specifically trained in how to dive with a physically disabled diver. As in the Instructor Training Course you receive first hand experience in understanding some of the problems encountered by disabled divers. The training also enables you in becoming an efficient diving assistant.
Course prerequisites:
Minimum age by course start: 16 years.
Minimum diving experience: Certified in diving by an internationally recognized diver training organization and show proof of a minimum of 20 logged dives with experience in navigation and night diving. You must also have undergone training in Rescue diving, First Aid and CPR.